I'm going to start this piece with a question. Margaret Thatcher and John Major, between them, were Prime Minister for a couple of days short of 18 years. For how many of those 216 months, according to the averages of polls in Mark Pack's database, were the Conservatives actually in the lead?
The answer is just 72, or exactly 1 in 3. In 138 months Labour led, in 5 months the SDP/Liberal Alliance was in first place, and one was a dead heat. Labour spent most of its wilderness years leading, but not winning.
Part of the huge leads that oppositions have often had can be explained by the way pre-1992 polls handled midterm blues. But not many months would have had a different leader unless you assume a huge spiral of silence, both early and late on in each parliament.
All of this ought to be a much more effective cautionary tale than screaming "margin of error" at anyone overly preoccupied with the YouGov poll for yesterday's Times, which put Labour narrowly ahead. The fact is that oppositions (and especially Labour oppositions) normally lead.
Worse from Labour's point of view is that this first poll lead took an awfully long time to arrive. In fact this one took 3 days longer than Neil Kinnock's first poll lead after 1987, which had to overturn a much bigger Conservative lead from election day. Mark's database shows that this is the Longest a Labour opposition has trailled for, since Hugh Gaitskell between 1959 and 1961.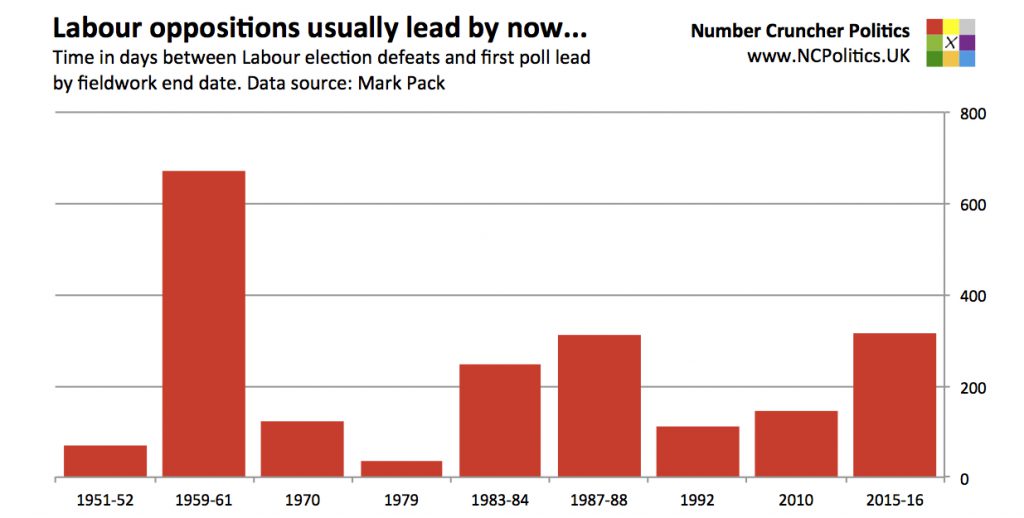 But that was then and this is now. The 4% swing between YouGov's previous poll and its latest is largely down to 2015 Ukip and Lib Dem voters breaking more red than blue. There still isn't a lot of direct net switching between the two big parties
There's nothing particularly odd-looking in the tables, but if there's a question mark over this poll it's to do with the timing. Quite often in the past we've seen sharp moves immediately after budgets that went back to normal pretty soon afterwards.
There are a couple of reasons why this can happen. It's possible that people genuinely change their minds and then change them back. But a more likely explanation when polls do this after a set piece event (as they did in the opposite direction after the last couple of March budgets) is response bias – people with an interest in (or strong view on) the event can be disproportionately likely to open and click on pollsters' emails.
We'll have to wait a bit longer to see if there's any evidence of that this time. But it does seem as though there's been a bit of a swing towards Labour recently – it's just tricky to work out how much is real, underneath the noise. ComRes and ICM showed swings as well, but ComRes was a reversal of a shift in the opposite direction in Februray, and ICM virtually told pollwatchers to wait for their next survey.
Hopefully we'll get some more polls in the Sunday papers.