Lord Ashcroft's latest marginals polling showed another mixed picture, with an average swing of 3.5% from CON to LAB, or a little over 3% if we exclude Crewe and Nantwich, which is likely to be showing the effects of its 2008 by-election. Other seats showed wide variation, with a 7% swing to Labour in Margaret Thatcher's old patch of Finchley and a 3.5% swing to the Conservatives in Somerset North East.
This mirrors the sort of picture we saw last week in Kingswood and Harrow, which could be a sign of a long-term shift towards the Tories in the West and towards Labour in London, or it could just be a coincidence. This was a pretty neutral batch – Labour will be happy to be ahead in some of these harder-to-win seats, while the Conservatives will take comfort from the fact that the average swing in these marginals remains smaller than the English average.
TNS showed the Conservatives back in front by two points, their biggest Tory lead this parliament. This was one of the polls that showed Labour ahead last Thursday:
YouGov/Sun showed an uptick for Labour. The vast majority of their fieldwork would have been done between the Labour and Conservative manifesto launches – tomorrow's will be entirely after both, but it's a fact of election campaigns that it's often hard to determine what's moving polls – there are simply too many "events" taking place.
One recent talking point has been the renewed divergence between online and phone polls. I took a look at this and found a couple of interesting patterns – that the Tory outperformance on the phone has been in evidence for nearly all of this parliament and that it's been particularly wide in the last six months: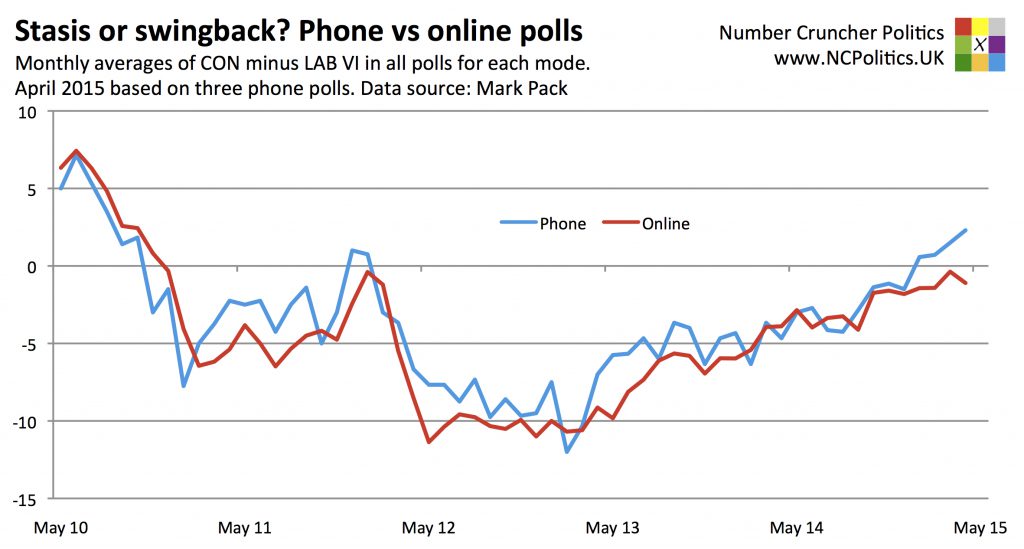 And finally:
Tomorrow we get YouGov/Sun and maybe some other polls as well. We've still had relatively few phone polls… We also get the Lib Dem and UKIP manifesto launches.