The UK EU referendum takes place on 23rd June. This page contains NCP's EU referendum poll tracker, Brexit poll probability model and UK EU opinion polls. You can read more of NCP's analysis on the EU referendum pages and the main site.
Latest: Projection and referendum night
EU referendum poll tracker and changes
REMAIN 46 (=)
LEAVE 44 (=)
DON'T KNOW 10 (=)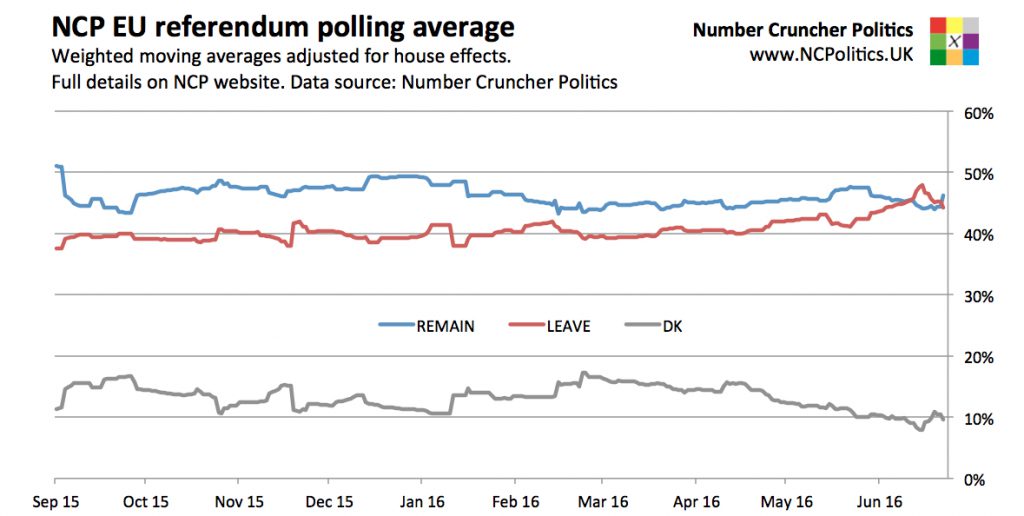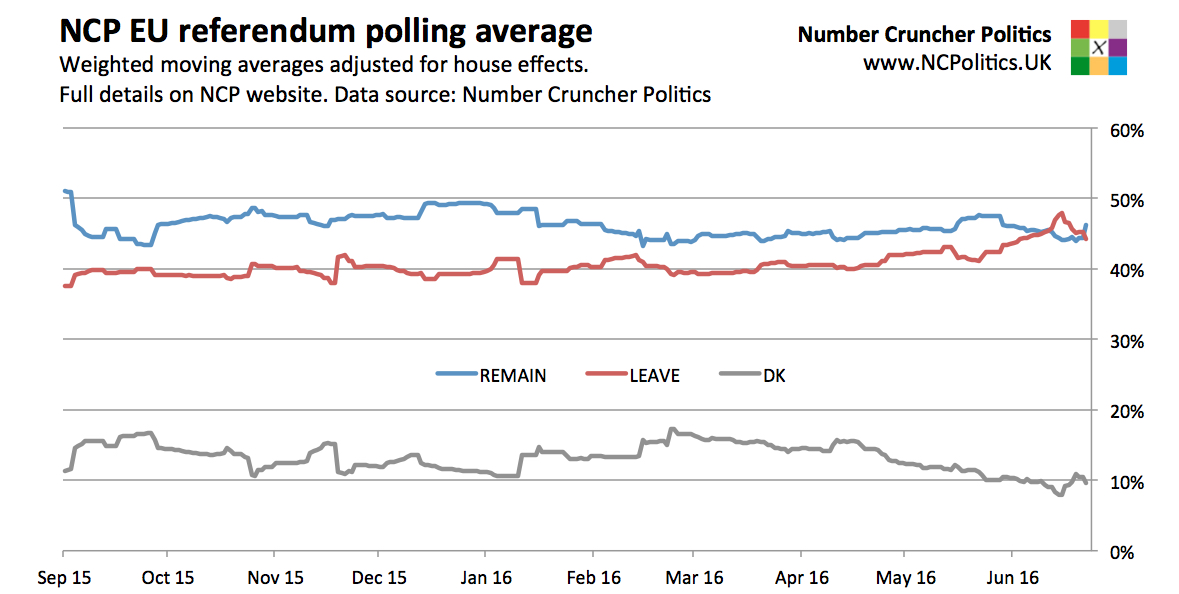 The latest set of averages is based on a combined sample and the polling average (see this post for more details) is an aggregation of published opinion polls for the U.K.'s European Union membership referendum. Each poll is adjusted for the house effect of the polling company, with equal weight given to telephone and online polls. Pollsters are also weighted by their historical performance and other criteria, and prior to the very final days, more recent data is given greater weight. The most recent poll was conducted up to 22nd June.
Brexit poll-based forecast model
Based on this polling average, together with analysis of the likely accuracy of opinion polling and historical referendum data, the NCP Brexit forecast model  (see this post for more details) projects the probabilities of each outcome (in per cent) of the UK EU referendum as:
UK TO VOTE REMAIN 75 (+1)
UK TO VOTE LEAVE 25 (-1)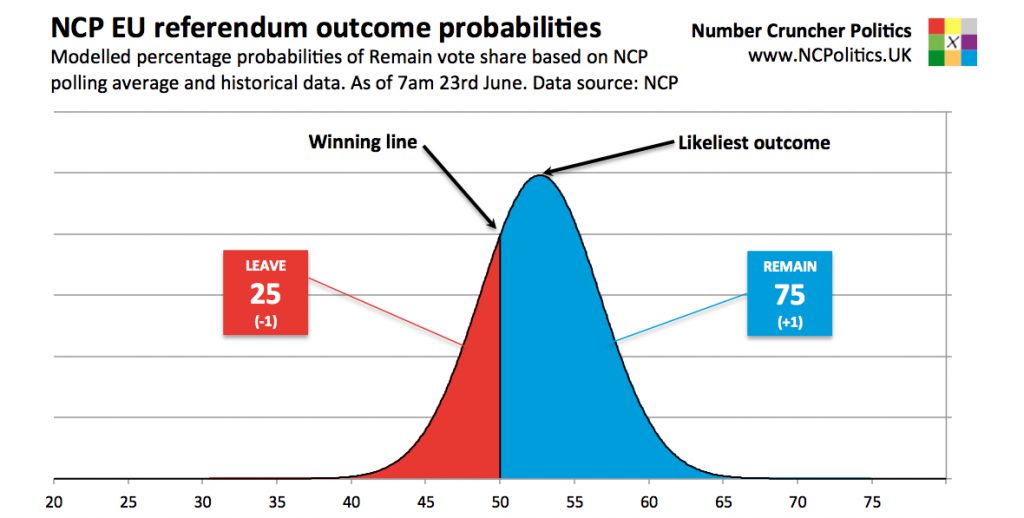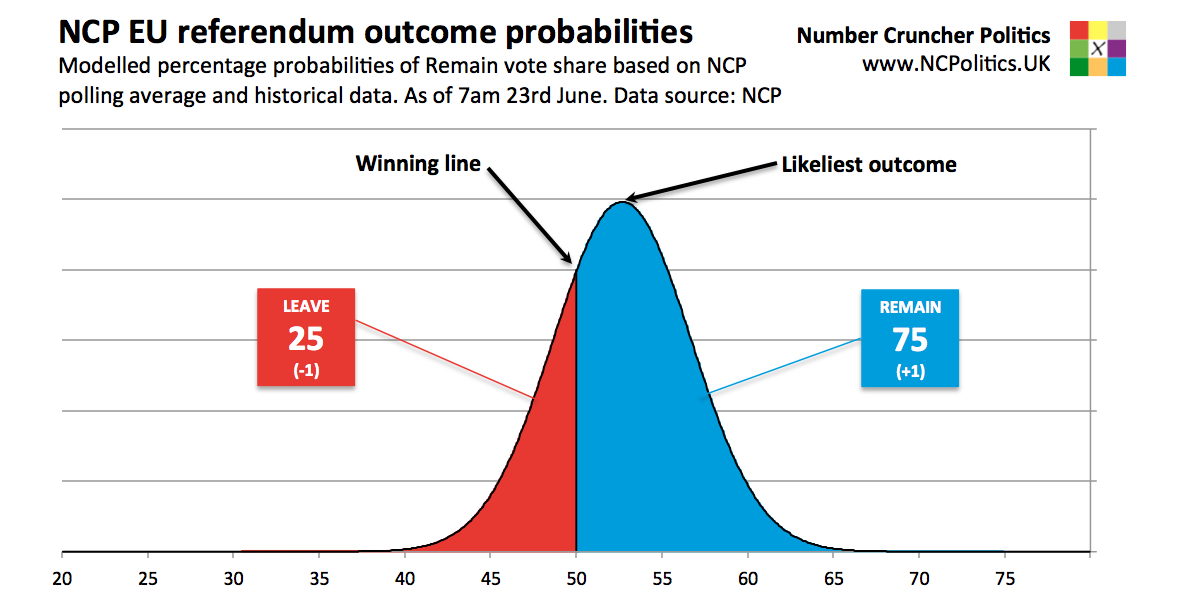 As of 7am 23rd June, changes compared with the 21st. In response to a number of requests for a "point forecast", the peak of the probability distribution, with a 95% confidence interval of ±8 points, is:
REMAIN 53 (=)
LEAVE 47 (=)
Further details of the NCP polling average are available in this FAQ and the EU referendum forecast model in this one.
Brexit odds and polls summary
#EUref summary:

Polls say REMAIN+2
Nowcast 52-48
Forecast 53-47#Brexit % chance 25 (-1)https://t.co/hUxOTPhRiB pic.twitter.com/oCAnSeCWHo

— NCP EU Referendum (@NCPoliticsEU) 23 June 2016
Final Brexit polls
| | | | | | | | |
| --- | --- | --- | --- | --- | --- | --- | --- |
| Pollster | Mode | Remain | Leave | Undecided | End date | Sample size | Lead |
| Populus | O | 55 | 45 | 0 | 22 Jun | 4,700 | R+10 |
| Ipsos MORI | P | 49 | 46 | 5 | 22 Jun | 1,592 | R+3 |
| SurveyMonkey | O | 51 | 46 | 3 | 22 Jun | 6,571 | R+5 |
| YouGov | O | 47 | 45 | 8 | 22 Jun | 3,766 | R+2 |
| Opinium | O | 44 | 45 | 9 | 22 Jun | 3,011 | L+1 |
| ComRes | P | 48 | 42 | 11 | 22 Jun | 1,032 | R+6 |
| TNS | O | 41 | 43 | 16 | 22 Jun | 2,320 | L+2 |
| Survation | P | 45 | 44 | 11 | 20 Jun | 1,003 | R+1 |
| ORB | P | 49 | 47 | 2 | 19 Jun | 800 | R+2 |
You can also view a list of articles about the UK's EU referendum. Be sure to follow updates on the NCP EU referendum Twitter feed and the NCP Facebook page: