By-elections are usually when the electorate in seats that rarely change hands get the chance to land a free hit on the government of the day. Even governments that have been soaring ahead in the polls have usually suffered swings away from them, including to opposition parties that later went down to heavy defeats at the general election. But instead of giving the governing party a bloody nose, the voters have turned around and given the opposition a bloody nose.
Labour did win with a clear majority in Stoke Central, but a against a 2% swing away from them (both to UKIP and the Conservatives). An opposition party losing vote share in a by-election is never a good result, especially in its own seats. An underwhelming win, but Stoke stays red.
Brut if Stoke was underwhelming, Copeland was catastrophic. An opposition party losing a seat to a governing party is bad, but for it to happen on a swing of 6.7 per cent without any psephological asterisks is – in modern times – uncharted territory.
The following chart shows governing party majorities (or deficits) in byelections (y-axis) compared with the previous election result (x-axis) in all contests since 1983. The Tories have been pumping results at the extreme upper end of the range lately and now two on the same day: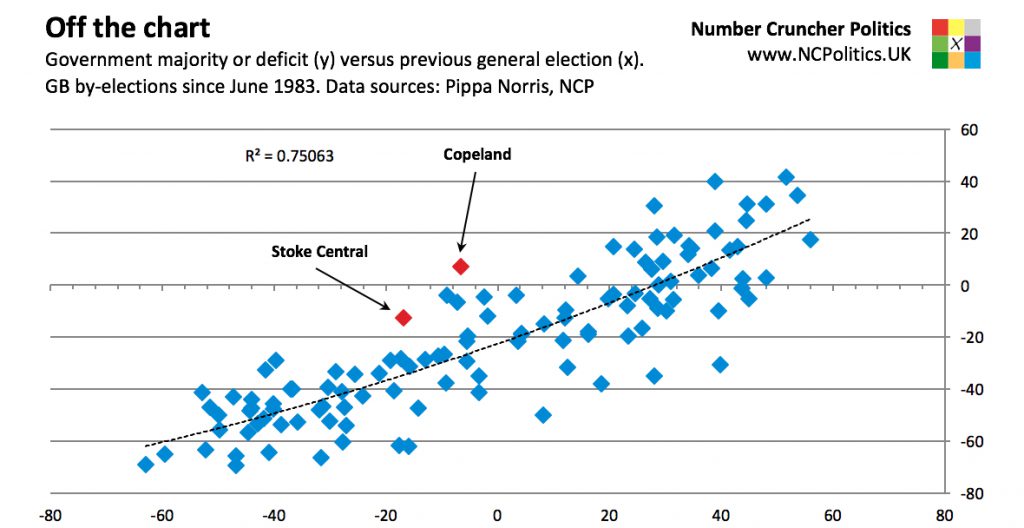 In doing so, they've become the first governing party to increase its vote share in two by-elections on the same day since 1954 and also achieved the biggest individual increase since 1966. As everyone will know by now, it was the first governing party gain since Mitcham and Morden in 1982 and the first on a directly comparable basis since Worcester in 1878.
John Curtice's point about the swing in this by-election being bigger than the swing in national opinion polls is both fascinating and totally out of line with the historical relationships between voting in by-elections and general elections. I can think of three possibilities: (1) a very non-uniform swing, (2) the relationship between the two is changing or (3) polls are still underestimating Tory support. For now I'm going say it's probably a combination of (1) and (2), because I'd want to see a lot of more evidence for (3) before drawing that conclusion.
But watch the May local elections closely – on these results, the Conservatives ought to win them on the national vote share measures.
We should be getting some polling today, though it will of course pre-date the by-elections. I've also posted a summary of thoughts on Twitter, mashed up into a Twitter moment:
⚡️ "Stoke and Copeland by-elections" by @MattSingh_https://t.co/V0D1asM2vj

— NumbrCrunchrPolitics (@NCPoliticsUK) February 24, 2017
Get it before it's on the website – sign up for this briefing: