Lord Ashcroft's latest round of marginals polling looked at battles involving the Lib Dems, including Nick Clegg's Sheffield Hallam seat, another defence from Labour in Cambridge, and six CON-LIB contests in Devon and Cornwall.
Sheffield Hallam is highly atypical, being held by a party leader, but one who is unpopular (at least nationally). It's also an oddball seat – apart from a couple of years following a by-election during the First World War, it was Conservative from 1885 to 1997 and Lib Dem thereafter. Labour has never won this seat, despite holding every other seat in South Yorkshire.
In this poll the Lib Dem leader is two points behind Labour, a similar to deficit to Ashcroft's last poll here, but with both parties gaining. Between the first (standard) and second (local) questions, Clegg gains 8 points, the Conservative drops 6, while the Labour candidate's VI is unchanged. Lib Dem incumbency usually produces this sort of a bounce, but in this instance it's highly asymmetric – perhaps a sign of Tories voting tactically to support him? The Conservative Party is certainly keeping a low profile, with only 13% of constituents having heard from them…
In Cambridge, Julian Huppert is further ahead of his Labour challenger. This looks like a classic sophomore surge, as a new incumbent fights their second election with the new benefit of incumbency, which as mentioned above, is substantial for Lib Dem MPs. It's hard to generalise to the broader LIB-LAB battleground from these two seats, as both are rather atypical.
Among the six races between the coalition partners, five are Lib Dem-held and one (Camborne and Redruth) is Tory-held. The latter is set to remain so with a dramatically increased majority and the Lib Dems down to fourth place behind Labour and UKIP.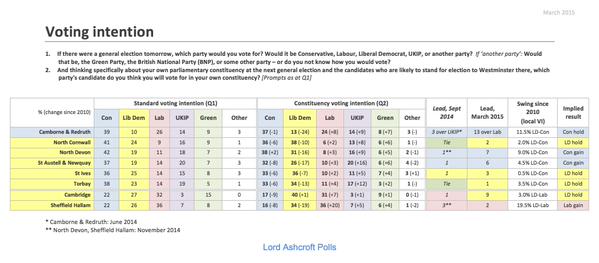 The other five show a mixed picture, with three moving towards the incumbent and two moving (by a larger amount) towards the challenger. But as I said last month, changes like this can be misleading when seats are selected for polling on the basis of previous polling results. It's far better to look at the swing, which was 3.9% to the Conservatives in the Lib Dem-held seats, a couple of points less than the 6% Ashcroft's National polls recorded across England over the same period. This is close to the differential swing in September and October across Lib Dem seats in general, so it seems like the Lib Dems are doing better in seats they're defending from the Tories, but by the same amount as before.
Overall there are no huge surprises in this report, but it's good news for some individuals and not such good news for others. On the subject of individuals, one of the current controversies around constituency polling concerns the naming of candidates. A number of people Lib Dems have claimed that not naming candidates understates incumbents, because the actual ballot paper has named candidates. It's possible that this is true, but the basis of their argument is that replicating the ballot paper as closely as possible necessarily improves accuracy. However we know that not to be case in some respects (such as which parties to prompt for). And surely, if the reasoning were followed further, why not prompt for the Greens, and any other parties on the ballot paper?
Lord Ascroft's view is as follows:
On balance I continue to think that when people are prompted to consider their own area and the local candidates, an MP's personal reputation should be baked in to their voting decisions. This should be especially true a few weeks before an election, when people are inundated with literature adorned with images of the local hero's beaming countenance.
This debate will run and run – there can be little doubt that naming candidates boosts an incumbent, but does it produce more accurate findings? Lord Ashcroft has been doing this for a while (just not in public until recently), so for the time being I'm inclined to trust his judgement.